BUGS CLUB
Let's have fun in Nanohana field!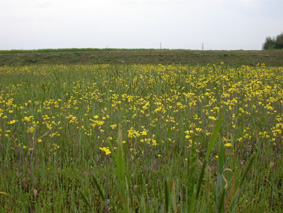 Let's have fun in the rice field with full of yellow and green colors.
What you can learn from this activity: Make a close look at Nanohana (rape) flower and insects. Help understand relationship among Nanohana flower, insects, other living-things in the rice field and human-beings.
When and where to do: May at Nanohana field
Materials and preparations:
Prepared by participants: PET bottle, knife, scissors, soft drink or water, cap or hat, boots, socks or shose that can become dirty, clothes to change, towel, rain coat, inscet net, insect holding basket, pencil, magnifying lens
Equipment by coordinator: Polybag, foamed base for flower arrangement, vinyl tape, microscope, small desk and chair, clipboard, paperboard, leaflet, questionnaire, first aid box, ink pens, sun shade
Procedure: 1. Close look at rice plant baby. 2. Treasure hanting in Nanohana field. 3. Place an inscet catcher made by PET bottle. 4. Catch all the insects on a Nanohana plant with big Polybag. 5. Enjoy flow arrangment by putting the Nanohana plant in the PET bottle. 6. Write your findings and/or draw a picture about whatever you found interesting.
Pictures of the activity :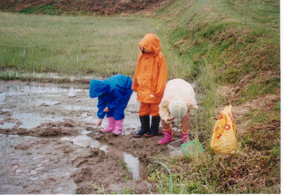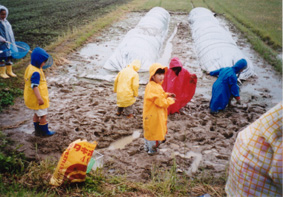 What do you find in the water? Stepping into mud is fun!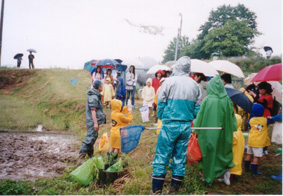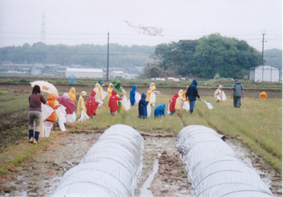 It's rain today. After picking Nanohana flowers, let's go to Mizubenosatopark.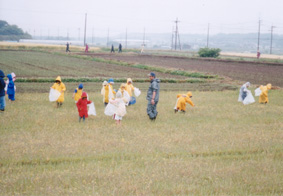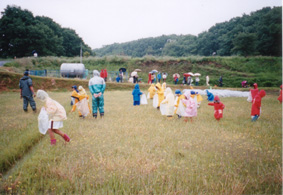 Lots of Nanohana flowers! There are frogs, too.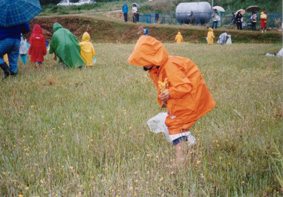 What did you find?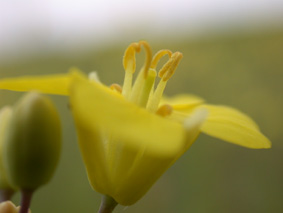 I found the flower itself is cute and interesting!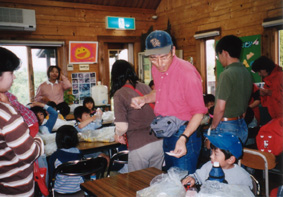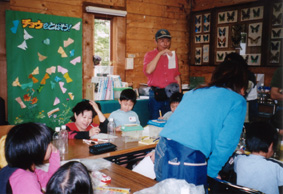 After coming to the park, all enjoyed quiz.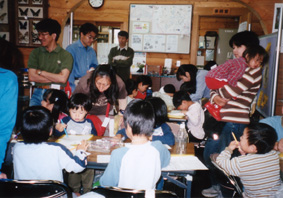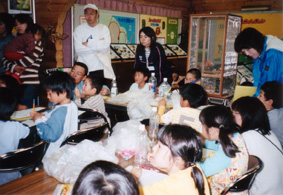 Everyone thought about how many living-things are live around the Nanohana plants.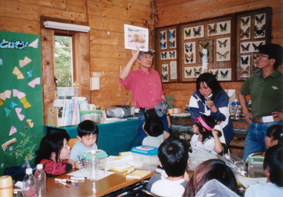 You also use Nanohana.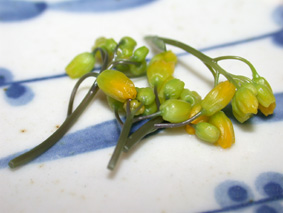 You eat the flower itself like this!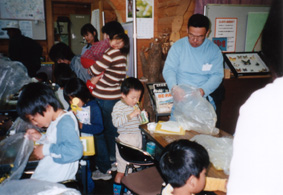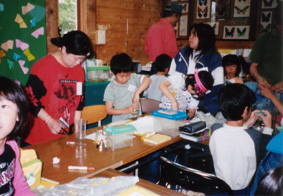 After close look at Nanohana flowers, all enjoyed flower arrangement.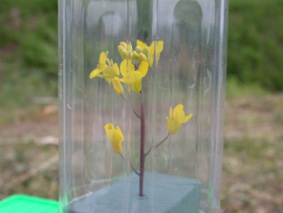 This was an example I made before, but every one made better ones than this!
Copyright © 2002 - 2017 むしむしくらぶ BUGS CLUB All Rights Reserved