BUGS CLUB
Let's plant rice by ourselves!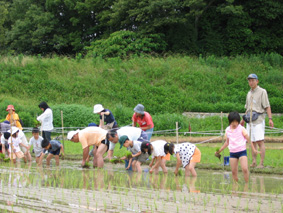 It's fun!
What you can learn from this activity: Have hands-on experience of rice planting. Make a close look at insects and other living things. Help understand relationship among insects and other living-things including human in the rice field.
When and where to do: June at rice field
Materials and preparations:
Prepared by participants: Hammer, bucket or small plastic aquarium, soft drink or water, cap or hat, boots, socks or shose that can become dirty, clothes to change, towel, rain coat, inscet net, insect holding basket, pencil, magnifying lens
Equipment by coordinator: Bamboos, wood plate, wood stick, nail, rope, wooden hammer, acryl inks, rice seed, microscope, small desk and chair, clipboard, paperboard, leaflet, questionnaire, first aid box, ink pens, sun shade
Procedure: 1. Think about where the Nanohana flowers had gone. 2. Close look at rice plant baby and rice seed. 2. Watch how rice planting machine works. 3. Learn about how you plant rice. 4. let's do it by ourselves. 5. Make your name plate and put it in your planted area. 6. Write your findings and/or draw a picture about whatever you found interesting.
Pictures of the activity :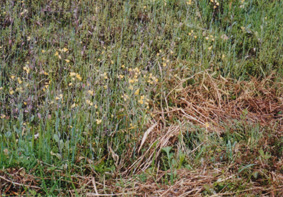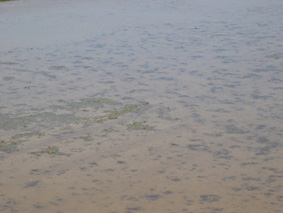 We saw the Nanohana flowers like this picture a month ago. The field has become a pond! What happened?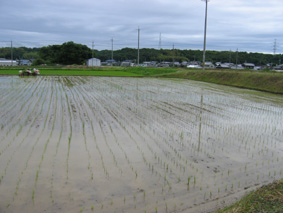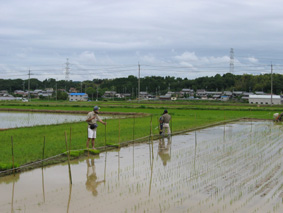 Most of the field had been planted by machine, but there is some empty space.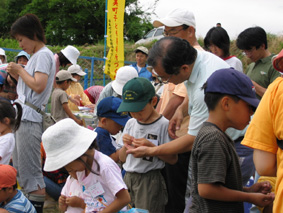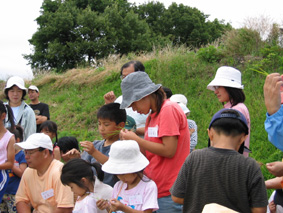 First, let's look at a rice seed and a rice plant baby. You see the plant baby still has outer shell of rice seed.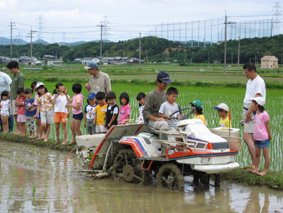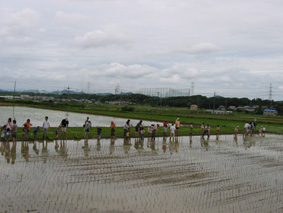 Did you see how the machine works? Now, you find your space to plant rice.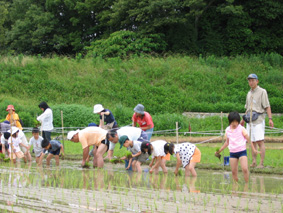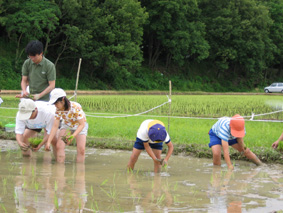 Let's plant rice! You are already like an expert.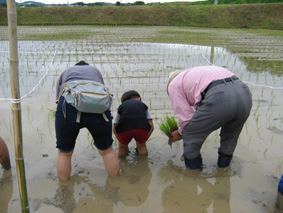 Many parents enjoy, too!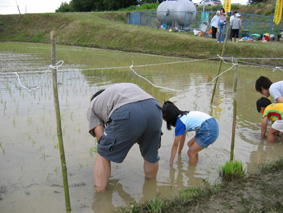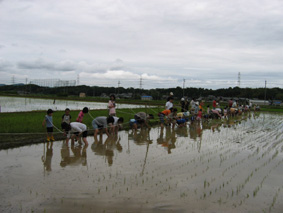 Look. Everyone concentrates on planting. It is fun!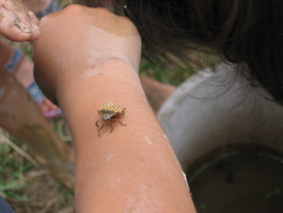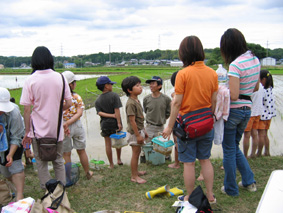 "Here, I found a water bug." "He has his eggs on his back." "You can grow rice plant in a bucket at home."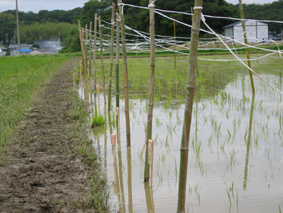 We put name plates at the end of the planting.
Copyright © 2002 - 2017 むしむしくらぶ BUGS CLUB All Rights Reserved