BUGS CLUB
Insect Watching in Rice Field - I : Catch a Water Bug!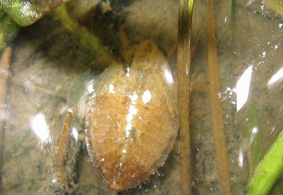 I find you!
What you can learn from this activity: Have hands-on experience of catching insects. Make a close look at insects and other living things. Pick weeds out from rice field. Then, help understand relationship among insects and other living-things including human in the rice field.
When and where to do: June to September at rice field
Materials and preparations:
Prepared by participants: Bucket or small plastic aquarium, soft drink or water, cap or hat, rain boots, socks or shose that can become dirty, clothes to change, towel, rain coat, inscet net, insect holding basket, pencil, magnifying lens, scoop net
Equipment by coordinator: Weed picker, microscope, small desk and chair, clipboard, paperboard, leaflet, questionnaire, first aid box, ink pens, sun shade, plastic aquariums, tank with city water, picnic sheet, gum type adhesive
Procedure: 1. There are lots of living things in the water of rice field. Let's catch insects in the rice field. Can you find anything cute, coold, and etc...2. Look at collected insects closely. Can you tell anything bout what you caught? (you may talk about where you find it, how its body looks like, what about eyes, legs, wings, mouth, how different it is from you.) Make a closer observation by a microscope. 3. Let's have hands-on experience of using the traditional weed picker. Remove weeds from the area you planted rice. 4. Write your findings and/or draw a picture about whatever you found interesting.
Pictures of the activity :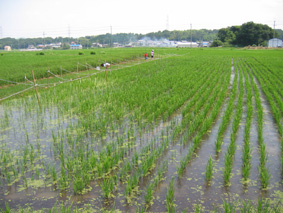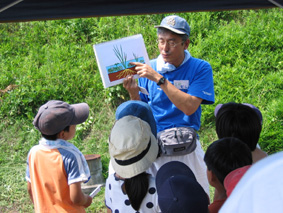 Rice plant is growing. Where do you think you find inscets in the rice field?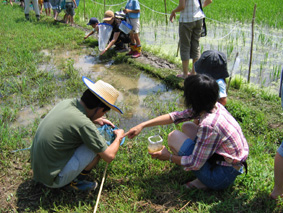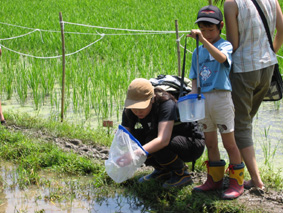 Let's start! Dad has already caught a water bug. Did you find it, mon?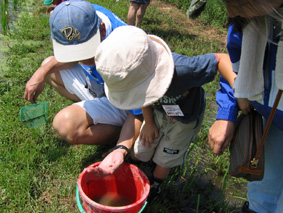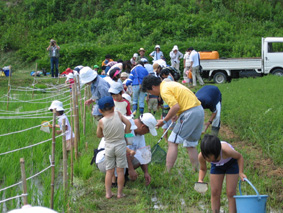 What's this? You put it on your palm. See how it crawls in between findgers. It's a jerusalem cricket.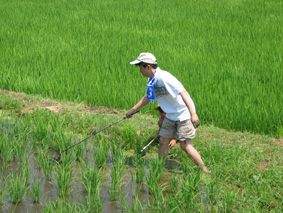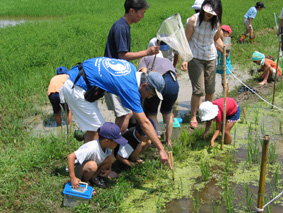 See around here!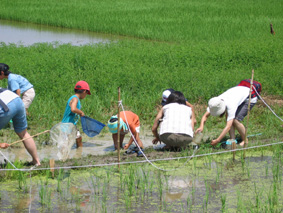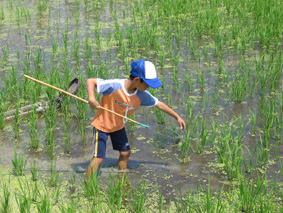 I found another one!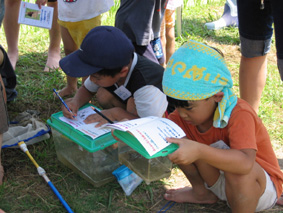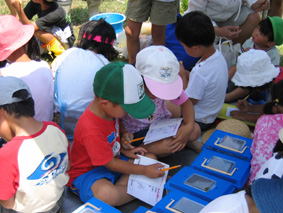 Let's have a break, and write down a picture of your favourite one among those you caught.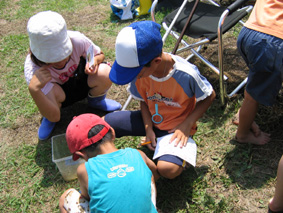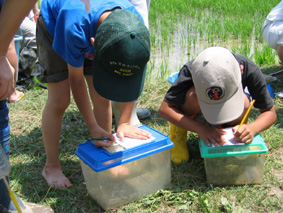 Look closely!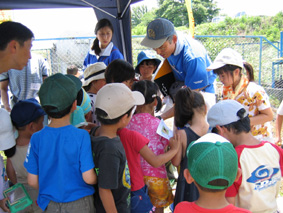 She found an egg case of water scavenger beetle! Could you show us?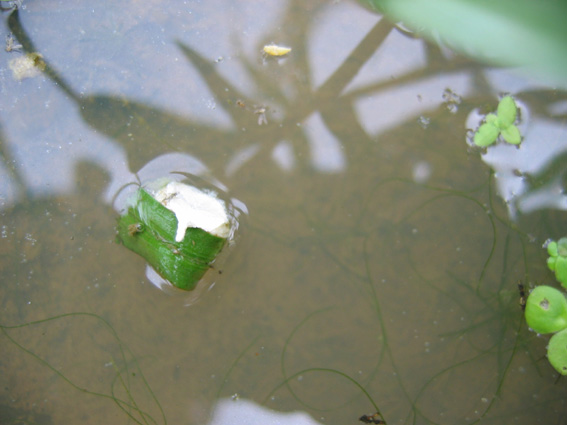 This is the egg case floating on the water.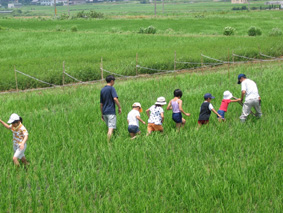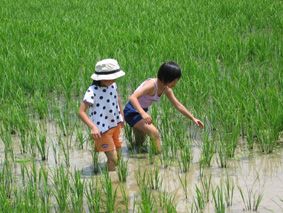 After the observation, we went to pick weeds.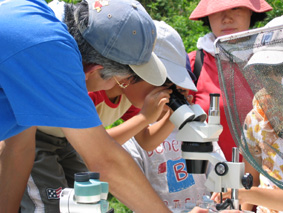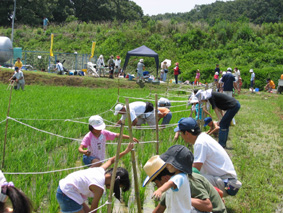 Do you see the mouth of water bug? We took care of rice plants that we planted.
Copyright © 2002 - 2017 むしむしくらぶ BUGS CLUB All Rights Reserved