BUGS CLUB
Insect Watching in Rice Field - I I: Catch grasshoppers!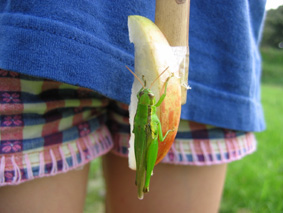 I got it!
What you can learn from this activity: Have hands-on experience of catching grasshoppers. Make a close look at grasshoppers and katydids. Also, make another close look at rice flowers when they are closed and opend. Then, help understand relationship among insects and other living-things including human in the rice field.
When and where to do: August to September at rice field when rice flowers come out.
Materials and preparations:
Prepared by participants: Adhesive tape, scissors, soft drink or water, cap or hat, rain boots, socks or shose that can become dirty, clothes to change, towel, rain coat, inscet net, insect holding basket, pencil, magnifying lens
Equipment by coordinator: Bamboo branch, microscope, small desk and chair, clipboard, leaflet, questionnaire, first aid box, ink pens, sun shade, plastic aquariums, picnic sheet, knife, apple
Procedure: 1. How a rice grain is produced? First, a rice plant grows, and then what happens? Let's see the actual rice plants in the field. 2. Next, let's enjoy catching grasshoppers by apple. 3. Now we make close look at body of grasshoppers. 4. Then we make another close look at the rice flowers again. You see what happened with these flowers. 5.. Write your findings and/or draw a picture about whatever you found interesting.
Pictures of the activity :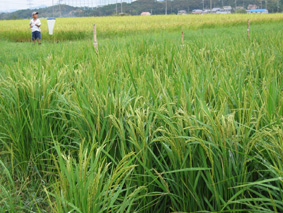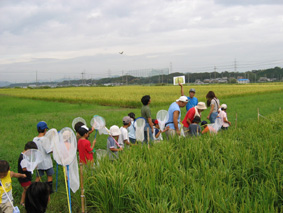 Wow, they've grown up!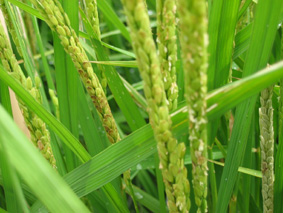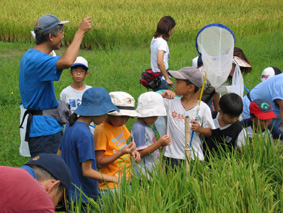 You see there are stamens of rice flowers. Pinch the young rice grain at the top of the ear.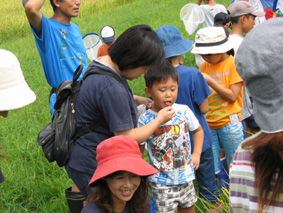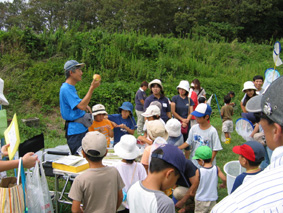 It's like a milk! You can taste it. Now, with this apple...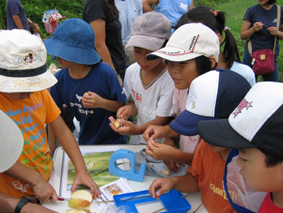 We are going to catch grasshoppers.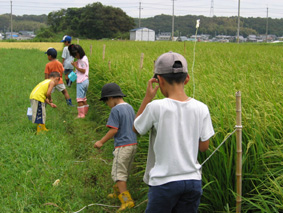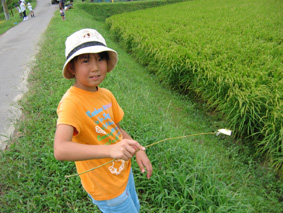 Let's go out for catching. See. I've got it.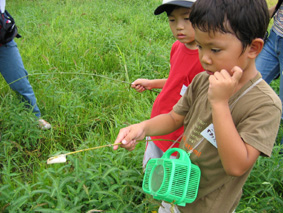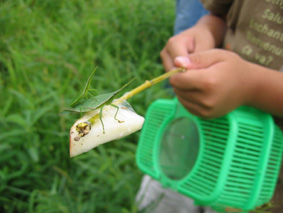 I've got one, too!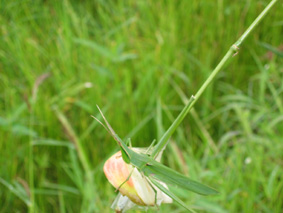 Look at mine. This one is big!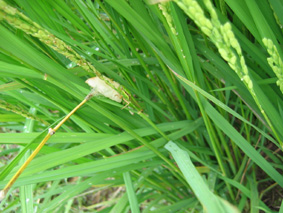 I can tell it is easy as long as you stay calm a while.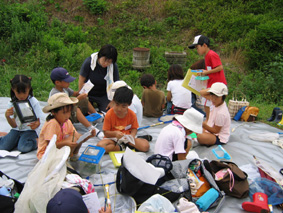 Let's have a close look at grasshoppers and katydids.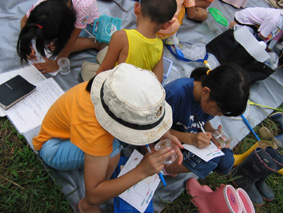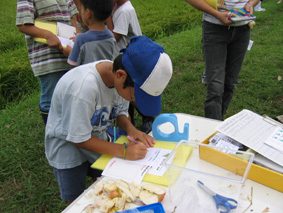 I see... Here I found an ear.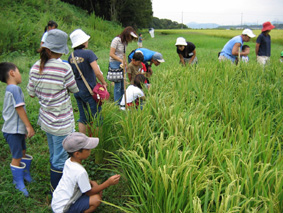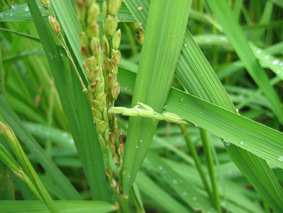 Lastly, let's look at the flowers again to see if their shells are open.
Here, they are!
Copyright © 2002 - 2017 むしむしくらぶ BUGS CLUB All Rights Reserved