BUGS CLUB
Night Field Tour
Emergence of Cicada and Reserch of Grasshopper
Scope: It is a watching activity through out a night in a nature dense environment. (in other words, it is a camp focusing on nature watching without cooking activities) Try to minimize number of activities so you can spend quality of time on each activity.
What you can learn from this activity: The following activities are performed.
1. Take time to enjoy playing with insects and nature activities.
2. Watch what happens in night time for living things.
3. Have experiences on nature outside, miracles there, and weired things.
When and where to do: Summer. Field and class room. 
Contents:
Playing with insects, catching insects, observation of emergence of cicada, research about grasshopper, night walk, staying in a tent.
Schedule of Program:
Day
AM/PM
Time
Activity
Day 1
PM
4:00-6:00

6:00-6:30

6:30-9:00

9:00-10:00

10:00-

10:00-10:45

Set a tent if it uses pegs.

Reception open. You can set your tent if it is self-standing type.

Watching at emergency of cicada (enjoy crafts if it rains)

Enjoy games

Go to bed

Night Walk (for those who are 10 years or older)

Day 2
AM
6:00-8:00

8:00

Research about grasshopper and close observation of it

Closing
Note: No food provided. Please come after eating or bring lunch (dinner?) box and eat either beofre 6:30 or after 9:00. You can eat rice balls or sandwich during watching at emergence of cicada. Please have a breakfast after 8:00 in the next morning.
Objectives of Each Activity:
Watching of emergence of cicada:
1.Experience wonder of life by observing the emergence of cicada with noticeable changes.
2.Experience thnking of many questions coming up by observing the emergence of cicada.
Night walk:
1.Feel you are living in nature (plants, animals, stones, ground, sky, etc) by sitting quietly outside.
2.As you come close to nature more and more, you recognize you are trying to feel not only the nature but also yourself.
Research of grasshopper:
1.Learn how to identify species of grasshopper, and start the research. By doing the research, you understand what kind of grasshoppers live and where they live. In the end, this triggers your diverse thinking of your surrounding environment.
2.After learning the research, you can try doing the same at your house or any other places.
3.Report the results of reserch to the national research activity.
Procedure:
Watching of emergence of cicada:
1.Introcution of life of cicada from egg to adult
2.Tonight you are going to see the change from nymph to adult. Welcome to the nature theater.
3.Let's go out to watch!
4.Reflection. What did you find? Any other findings?
Team building:
1.Game of finding a person
2.Tea time
Night walk:
1.What's "Silent Sharing Walk"?
2.Let's go out quietly!
3.Reflection
Research of grasshopper:
1.Why we do research of grasshopper?
2.Let's learn how to identify secies of grasshoppers.
3.Let's go out to do the research!
4.Wrap up. Let's see level of nature by grasshoppers. Let's write a report!
Ending session:
1.Reflection
2.Group photo taking
Material Preparation:
 
By coordinators
By participants
Activity Related
Recording Notebook of Research of Grasshopper

Materials of Mushimushi Craft (Back-up if rain)

Leaflet, Questionnaire, Guide Board

Long sleeve shirt and long pants, insect repellant, flashlight, insect net, insect busket, color pencils, boots
Food Related
Tea for Team Building
Bring necessary foods
Lodging Related
Tents, Unlocking of Wash Rooms, Lights
Tent (if you want to use yours), sleeping bag or blanket, mat, toiletries, change of clothes, water bottle
Safety: First-aid Box, Checking of any dangers of trails and animals/plants.
Pictures of the activity :
At Inamino Mizubenosato Park on Aug 5th and 6th, '06.: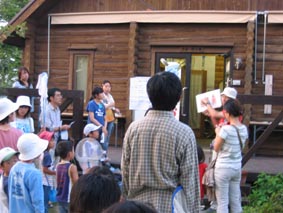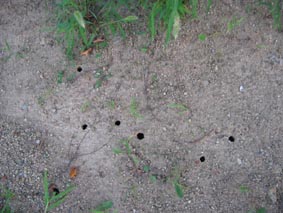 Tonight, we are going to see the emergence of cicada. Those are holes cicada nymphs came out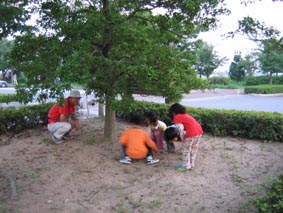 Looks slow moving tonight. It has become dark already.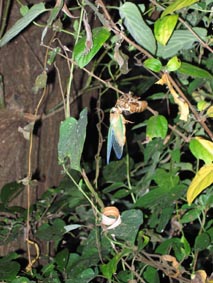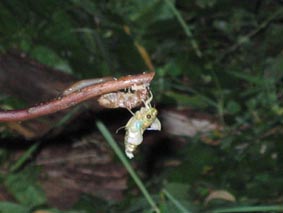 Finally, we found one already has come out. This one is Tsukutsukuboshi(Meimuna opalifera)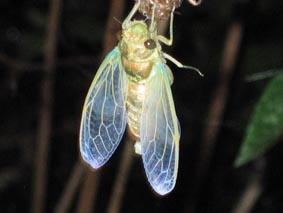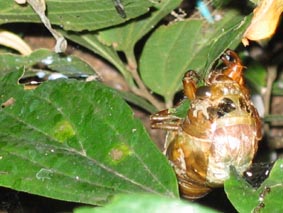 Wing is getting flat. This one has just started emergence.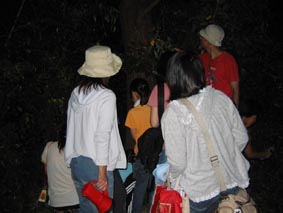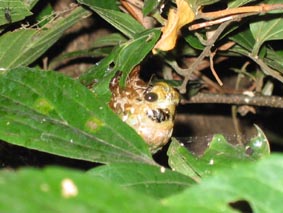 Head already come out.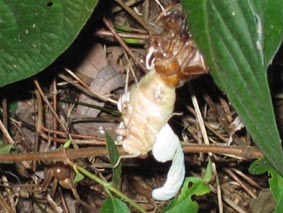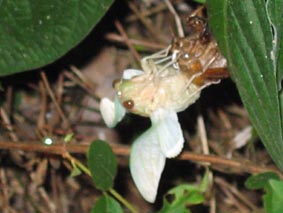 This is Aburazemi(Large Brown Cicada, Graptopsaltria nigrofuscata)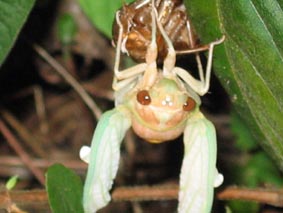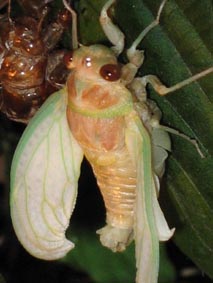 This wing of Aburazemi is whiter than that of Kumazemi (Black Cicada, Cryptotympana facialis). You can see total range of emergence here.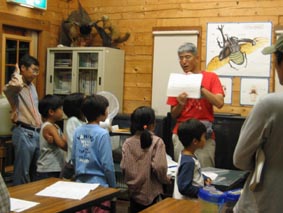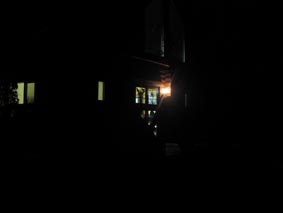 Enjoy a game after coming back to the park building. Outside after dark.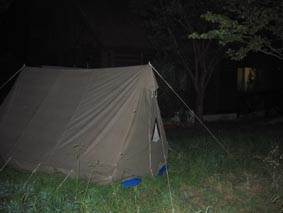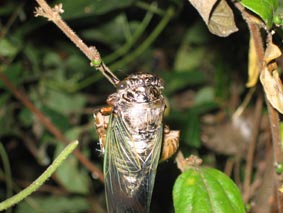 Stayed in a tent made by poles and ropes. Kumazemi at 5 am. It's already black!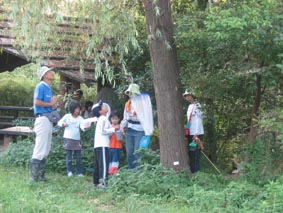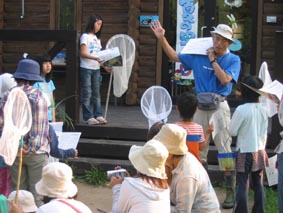 We went out to see cicadas as some if them were still there after 6 am. Next, research of grasshoppers!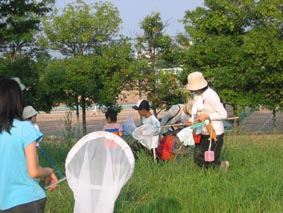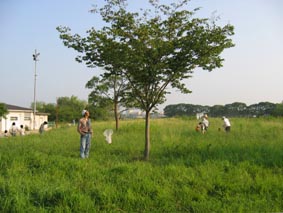 There were ao many Shoryobatta (Longheaded locust, Acrida cinerea)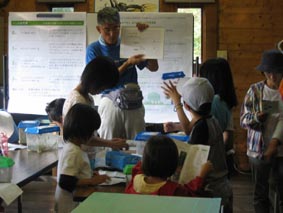 Let's do identification!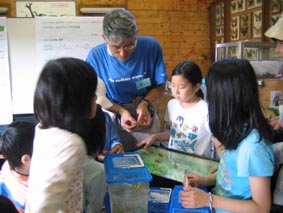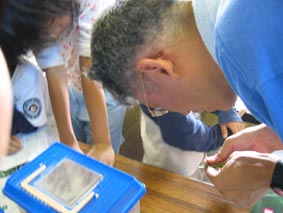 Difference between Tonosamabatta (Migratory Locust, Locusta migratoria) and Kurumabatta (Gastrimargus marmoratus). You can tell it by opening the wings.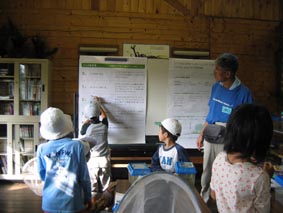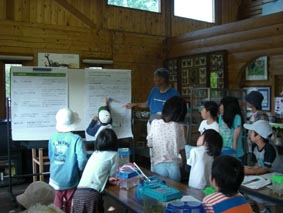 Let's check the ones you found! Then, can you tell what level of nature the park is? Let's write a report of it.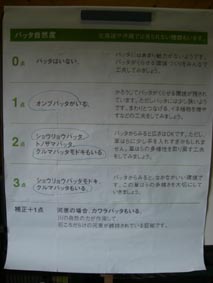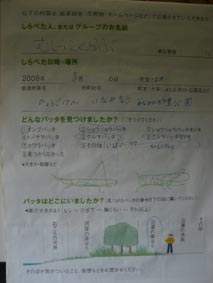 The completed report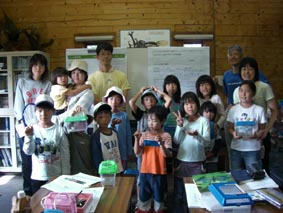 Group photo. There were 29 children join the camp though there were less children who joined till the morning session.
Copyright © 2002 - 2017 むしむしくらぶ BUGS CLUB All Rights Reserved