BUGS CLUB
Mushimushi Camp @ Tochiwara 2007, 2008 & 2009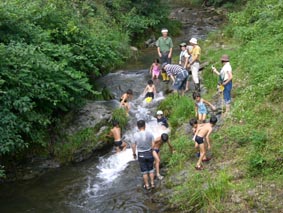 In this camp, you try things yourself. You do not need to do many things so that you can sepnd precious time in each activity. Full of animals and plants are waiting for you.
Theme:
2007: Feel the relationships. 2008: Let's eat! 2009: You and living things in mountains and streams.
Activities:
Enjoy cooking, eating staying the camp as well as participating in activities of Bugs Club.
Have fun in the stream nearby. Catch and eat small fishes (dark chub: Candidia temminckii), freshwater crabs (Geothelphusa dehaani) and freshwater shrimps. The water flows into the stream after you use.
Have an experience of traditional ways of living which are closer to nature. For eamples, get fire flame by striking a match and cook rice by a firewood stove.
Go out to find rhinoceros beetles and stag beetles in a forrest.
Feel darkness, wonder and fearfulness of nature at night.
Where do you stay?:
Main house of camping. You can use futon there. Or you can stay at yard of the house.
Pictures of the activity :
At Tochiwara Children's Nature Experience Camp on Aug 1st and 2nd, 2009: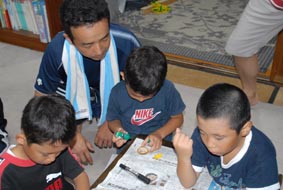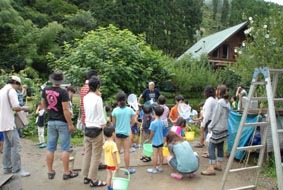 We did activities whenever rain is over as it rained many time this year. Because of rain, it was relatively cool and confortable.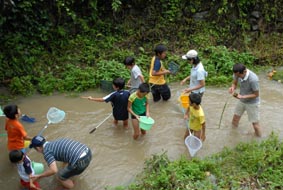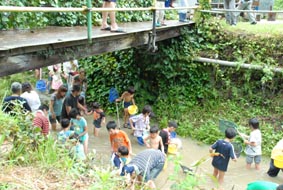 As water level is relatively higher than usual, we just used the are of stream at the camping site. Some staffs stood at down stream area just in case.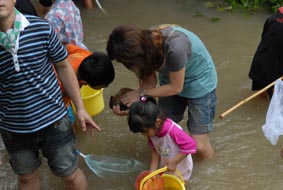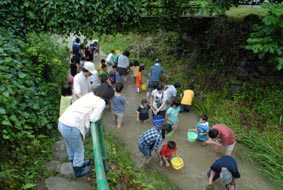 Though water was cloudy, we could find aquatic insect larvae.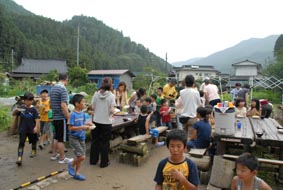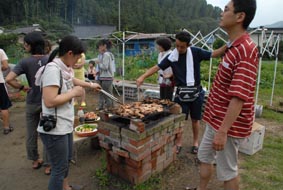 We finished all day activities on time so it was the first time we had a dinner before dusk!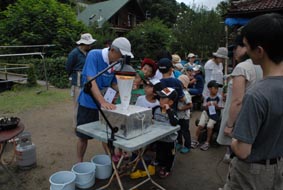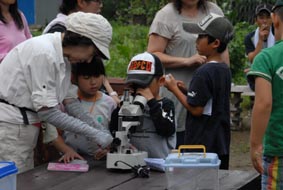 We did the micro-expedition in the next morning. Found tiny insects in soil of mountain.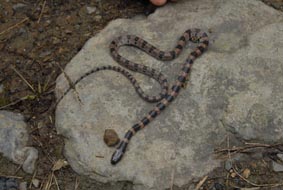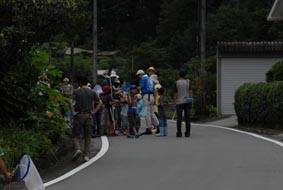 Though being dead, we found a snake (Japanese odd-tooth snake). We went out for catching insects in neighbors.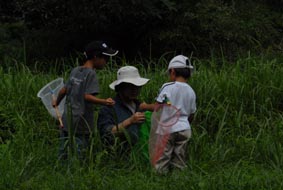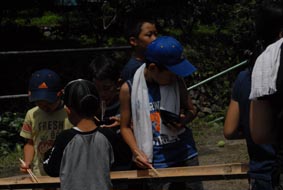 Our friend, Yamamoto-san joined us to help. Immediately, he invited kids to have fun with insects.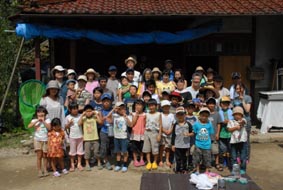 Group photo at the end of camp. Had a lot of fun!
At Tochiwara Children's Nature Experience Camp on July 26th and 27th, 2008: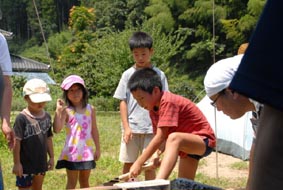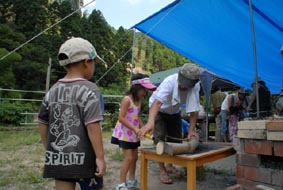 At the begining, each person made own name badge by cutting wood.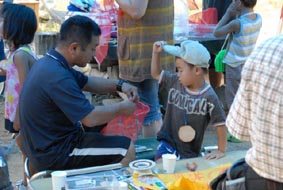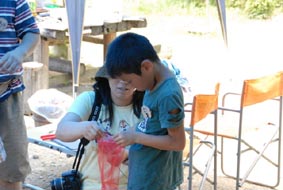 Then made insect net, this year's weapon.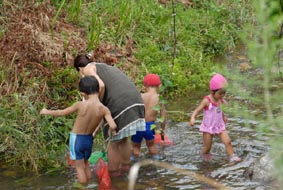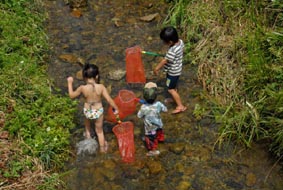 Go out to the stream with the net you made!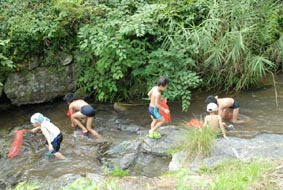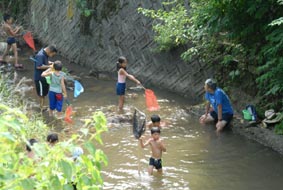 Everyone has full energy. I was a bit tired already.....!?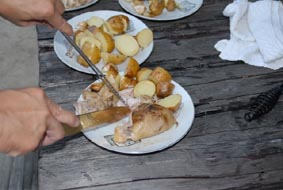 Picked summer vegitables. Used a Dutch oven.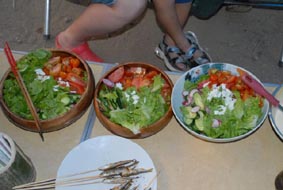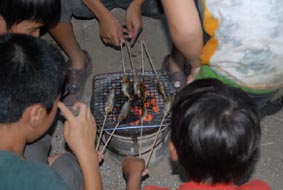 Salad and grilled dark shub with charcoal.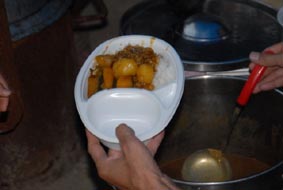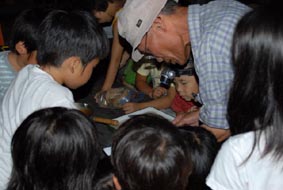 Curry with summer vegitables. Tokoroten jelly.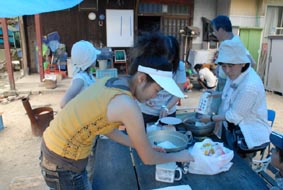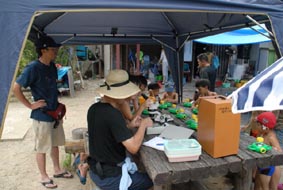 Making pizza. Close observations of insects with magnifier.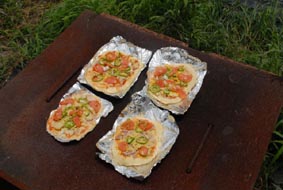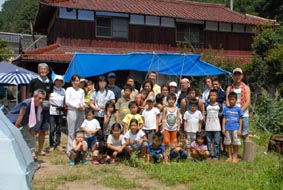 Lunch with pizza. Group photo at the end.
At Tochiwara Children's Nature Experience Camp on Aug 4th and 5th, 2007: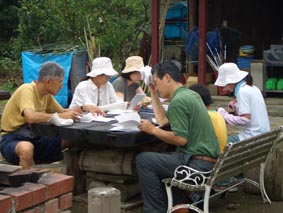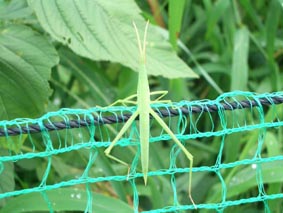 Briefing before the camp. We found a grasshopper in the camp site!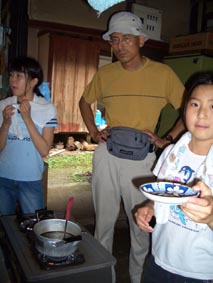 We found a Japanese Rat Snake. We made syrup to attract beetles next morning.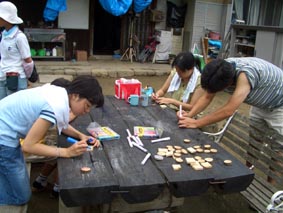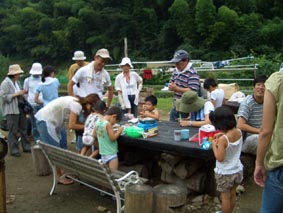 Made name gadges.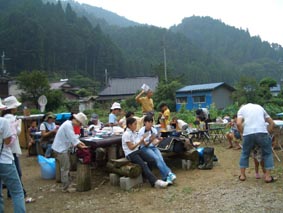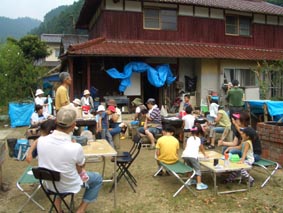 Orientation started!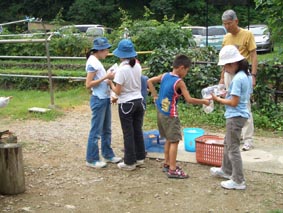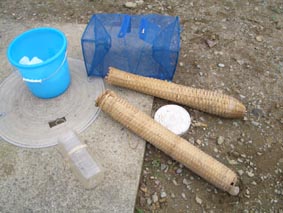 Traps to catch fishes!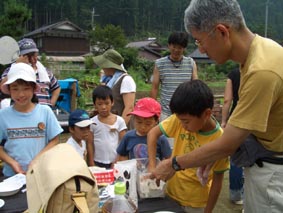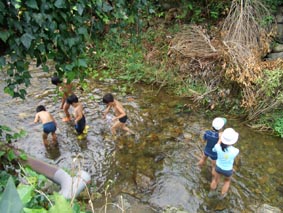 After making beits, go out to set traps.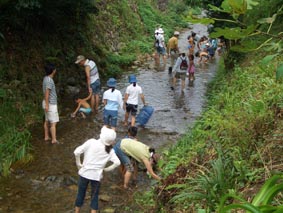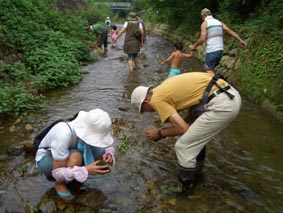 You see there are many insects under the stones.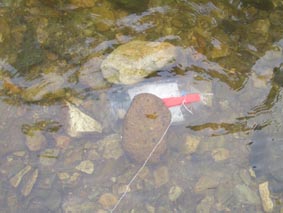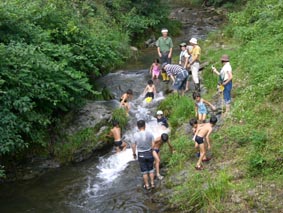 A trap in the steam. A natural water slider!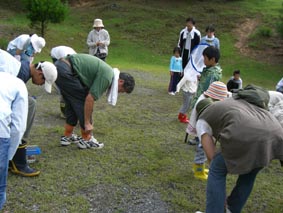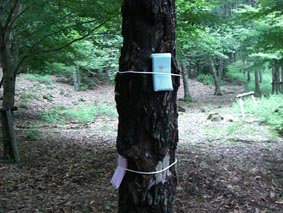 Look out leech! Let's put some traps for stag beetles.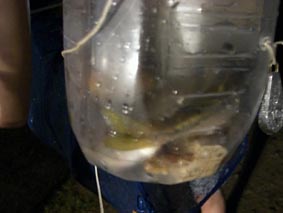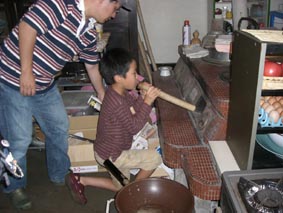 There are so many fishes in the traps!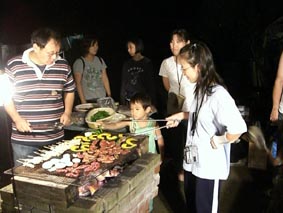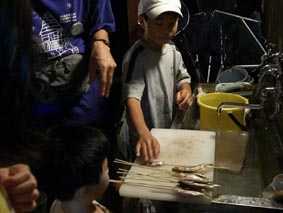 Let's eat them!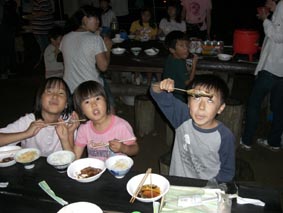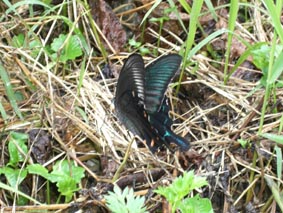 Dinner time! A butterfly (Papilo bianor)
Copyright © 2002 - 2017 むしむしくらぶ BUGS CLUB All Rights Reserved