BUGS CLUB
Zazamushi (larvae of caddisflies or order Trichoptera) Cooking!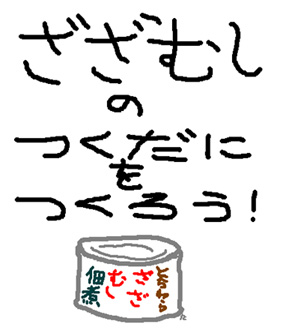 Cold in a stream! But greate delicacy of Zazamushi!
What you can learn from this activity: Understand and feel conditions of a river in Winter. Enjoy cooking of Zazamushi. Think about food chain.
When and where to do: Winter. A stream of river where you can find larvae of caddisflies or order Trichoptera.
Materials and preparations:
Prepared by participants: Wear cloths and shoes which you can get wet with, boots, glove, soft drink or water, cap or hat, clothes to change, towel, inscet net, insect holding basket, pencil, magnifying lens, backet
Equipment by coordinator: Pot, soy sauce, sugar, BBQ Grill, charcoal, outdoor microscope, desk and chair, leaflet, questionnaire, first aid box
Procedure: 1. Catch Zazamushi. 2. Look at them carefully. 3. Cook and eat zazamushi. 4. How was the taste?
Copyright © 2002 - 2017 むしむしくらぶ BUGS CLUB All Rights Reserved