BUGS CLUB
Dragonflies in rice field

    Hello everyone! Today, you will find lots of intersting abilities of me as well as beauty of rice flowers.
What you can learn from this activity: Understand characteristics of body parts of dragonfly. Help understand relationship among rice, dragonflies, other insects and human-beings.
When and where to do: August to October in rice field.
Materials and preparations:
Prepared by participants: soft drink or water, cap or hat, boots, socks or shose that can become dirty, clothes to change, towel, rain coat, inscet net, insect holding basket, pencil, magnifying lens
Equipment by coordinator: microscope, small desk and chair, clipboard, paperboard, plastic pool, glass dish, leaflet, questionnaire, first aid box, trash bag, ink pens, sun shade, dragonfly specimens, insect net made with spider web, dragonfly eyeglasses.
Procedure: 1. Look at how dragonflies fly. 2. Know ways of catching dragonflies. 3. Go out for catching dragonflies. 4. Make a clos observation of body parts of dragonflies. Make comparisons with your eyes, mouth, hands and legs, wing?, stomach. 5. Watch flowers of rice. Look at inside of the young rice, and taste juice. 6. Jot down whatever you found interesting.
Pictures of the activity:
Can you find any differences from the rice you saw in last month?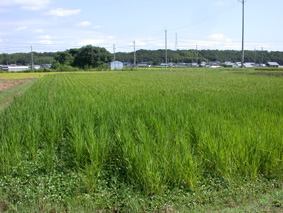 Right! There are ears of rice. You see green grains.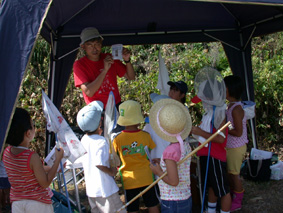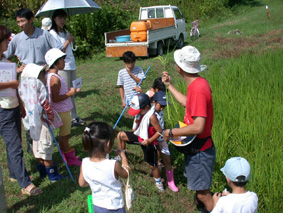 Now, these are still flowers though they are closed.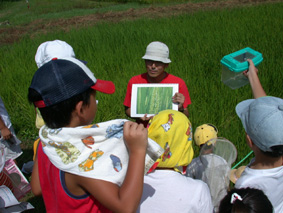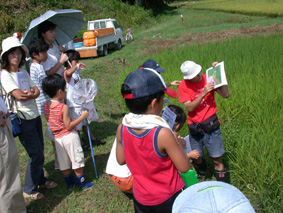 Look at the ear bending slightly down. You see white juice and can taste it when you squeeze a grain. How do you like?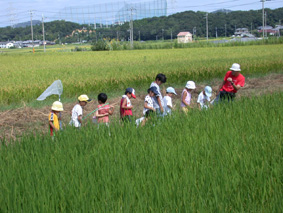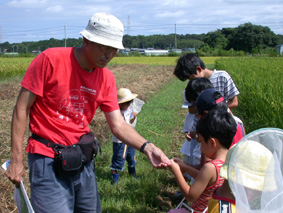 Dragonflies are flying in the air above the rice field.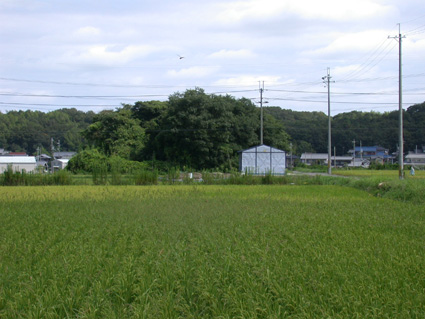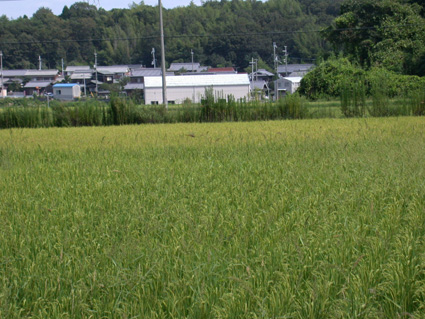 Lets's go out for catching the dragonflies! It seems chanllenging though.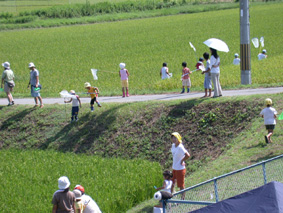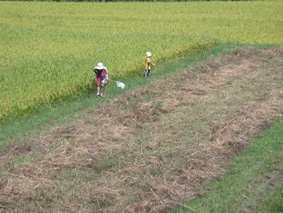 When you catch a dragonfly, you can look at it closely. How different from your face and body?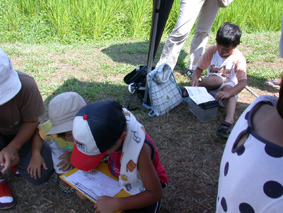 You can do a closer observation with a microscope. You can experience the wide view of a dragonfly with the dragonfly glasses.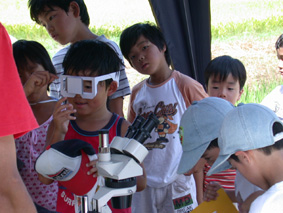 "What do you see?" Microscope is a magic. Our small friend also enjoyed the view with help from her mother to reach the height of microscope.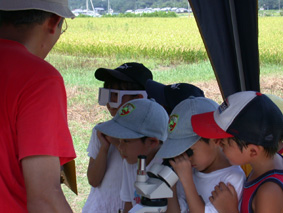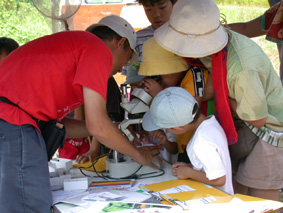 Then what? The rice eras look different from the ones we saw first we came here. There are lots of white things out from the grains.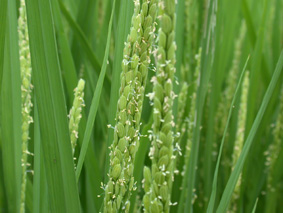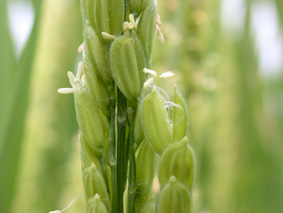 Flowers of rice are open now!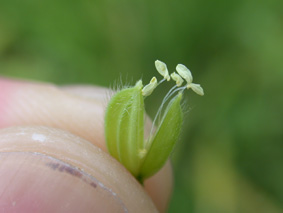 Copyright © 2002 - 2017 むしむしくらぶ BUGS CLUB All Rights Reserved