BUGS CLUB
Let's explore the jungle of rice field!

    How tiny it is!
What you can learn from this activity: Help understand relations among rice, inscets, other animals and human-beings.
When and where to do: June to September in rice field.
Materials and preparations:
Prepared by participants: soft drink or water, cap or hat, 500ml (or less) PET bottle, knife, boots, socks or shose that can become dirty, clothes to change, towel, rain coat, inscet net, insect holding basket, pencil, magnifying lens
Equipment by coordinator: plastic board, microscope, small desk and chair, clipboard, paperboard, plastic pool, glass dish, string, silverpicnic sheet, leaflet, questionnaire, first aid box, trash bag, drill, sand paper, ink pens, sun shade, saw
Materials by coordinator: scotch tape with adhesive at both surface, flexible plastic tube, rigid plastic tube, adhesive, string, fine net, normal scotch tape
Procedure: 1. Make your own aspirator using PET bottle. 2. Go out for collecting small insects in the rice filed. Observe them closely first and then collect them with the aspirator. Do a closer observation with magnifying lens or microscope. 4. Jot down whatever you found interesting.
Pictures of the activity:
"Today, we are going to explore the jungle of rice field. The target you are going to find is....."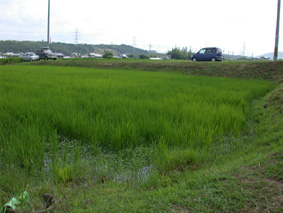 "Like this one!!!"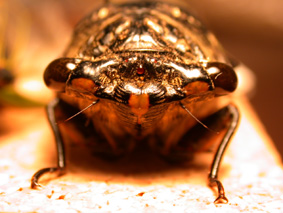 "Wow. It seems tough." Everyone thought it would be a challenge.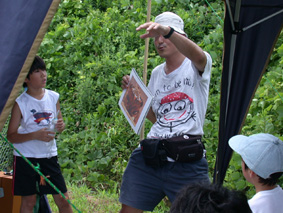 "Pls be calm, and let me finish my talk. It is like that one, but real look is here." "It is a leafhopper."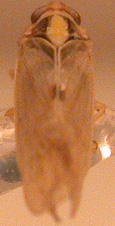 "Oh my... how tiny!", every children thought. " "Glad that I can manage that small one.", every mother thought. "It is small, but just like a cicada!"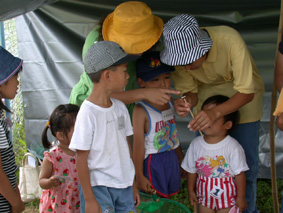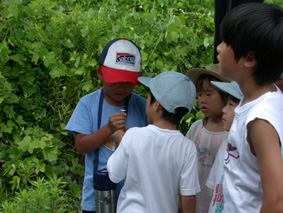 "Let's start with making your aspirator!"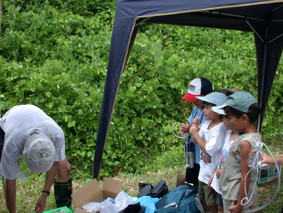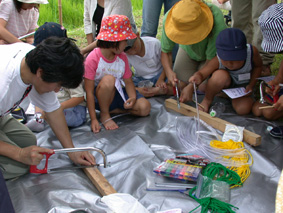 "Let me help. See how I do." Dads joined.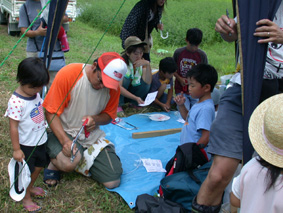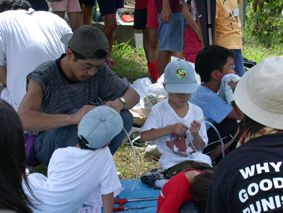 It was really the help that some farthers made holes on caps. Thank you very much!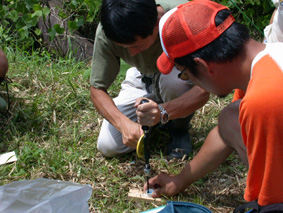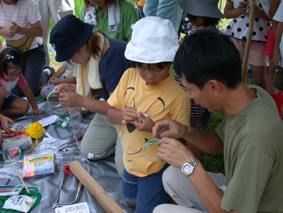 "Now, let's go out!"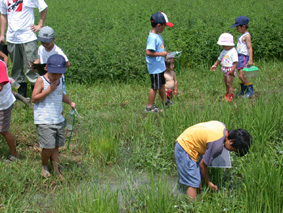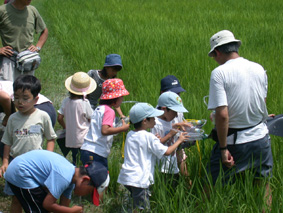 "Place the balck board right next to the rice, and gently hit the rice with your hands several times" "Here you see them"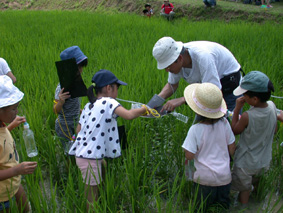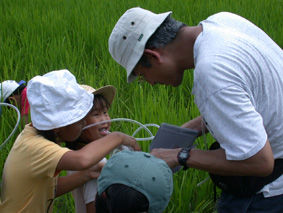 "I got it." Children went out to the field wherever they wanted with holding tube of the aspirator in mouth.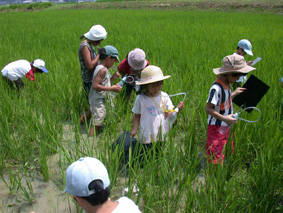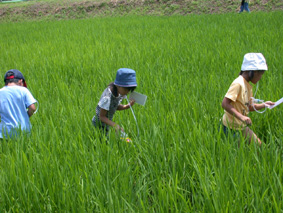 "Show me what you have."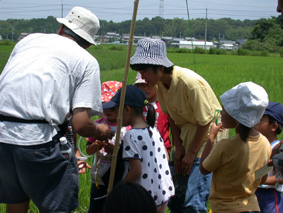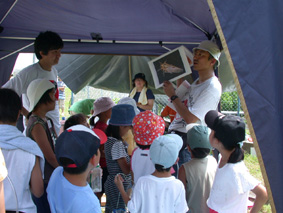 "I found this and that, and..." "There are lots of living-things living together in the rice field!"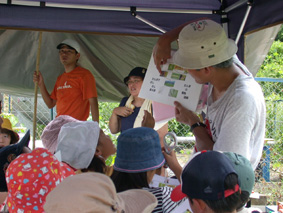 Copyright © 2002 - 2017 むしむしくらぶ BUGS CLUB All Rights Reserved