BUGS CLUB
What do you find in water of rice field?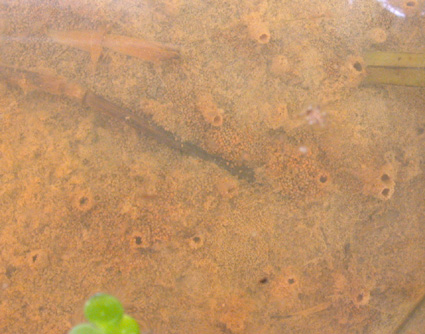 Above right: Lots of small holes on bottom of pond-like rice field!
What you can learn from this activity: Help understand relations among rice, plants, water bugs and human-beings.
When and where to do: June to September at rice field.
Materials and preparations: Soft drink or water, cap or hat, 2L PET bottle, knife, aquatic net, boots, socks or shose that can become dirty, clothes to change, towel, rain coat, inscet net, insect holding basket, pencil, magnifying lens, grass picker, microscope, clipboard, paperboard, plastic pool, gimlet, tray, black ink, glass dish, color plastic adhesive tape, string, dragonfly label, white picnic sheet, leaflet, questionnaire
Procedure: 1. Make your own aquarium with a PET bottle. Go out for catching nymphs of dragonflies in the rice filed. Also collect plants in the rice field. 2. Let's try to use grass picker to get rid of grass. 3. Do a close observation of dragonfly nymphs, other animals and plants as well as rice. 4. Jot down whatever you found interesting.
Pictures of the activity:
Today, you are going to catch bugs in the water of the rice field! Before going out, let's make your own aquarium using PET bottle. First, you cut the bottle.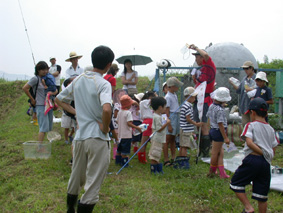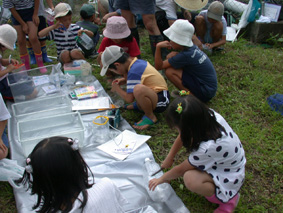 Then, make a hole, and tie a string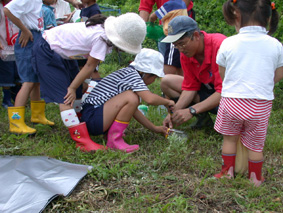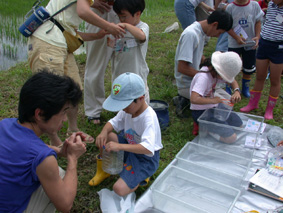 Now, you go out. Did you catch anything?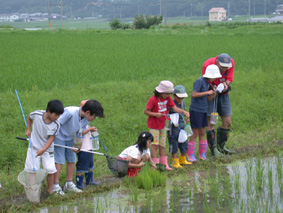 Let me see what you caught.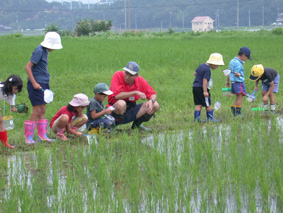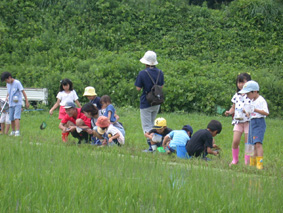 You have not caught anything? Look at the mud closely, and then you find... Daddies can not just look at kids having fun.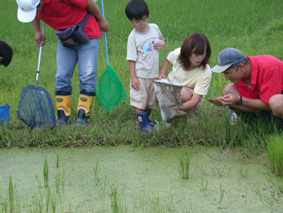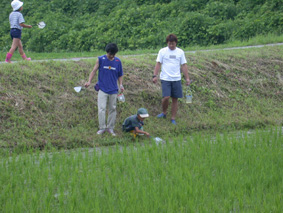 You can find more at the middle of the field!?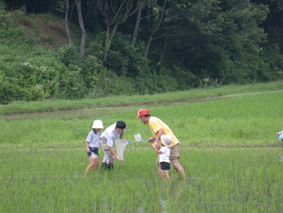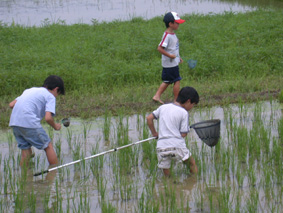 We want keep finding out bug!! Don't care about how much time we spend here...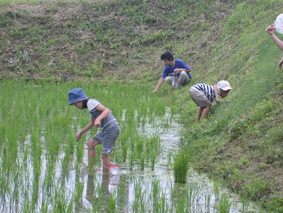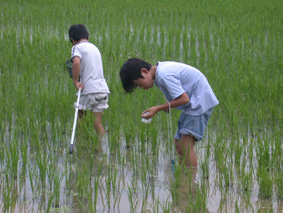 Let me use the grass picker. Looks fun! Wow, it is really interesting, but it is really heavy!!!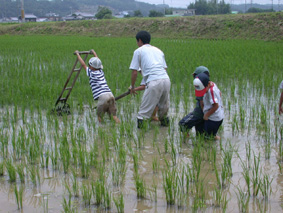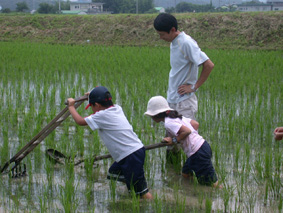 Wait! Dad... Raise your hand if you caught a tadpole.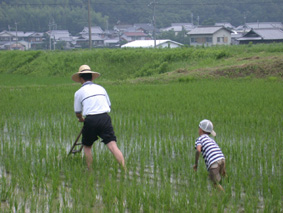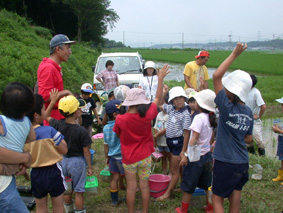 Many of us found a mummy-like thing in the water. This is a pupa of a fly..... Wow, here you found a adult of the fly on my cap!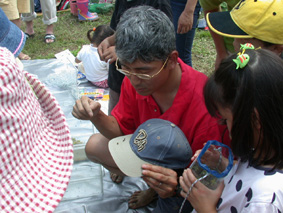 Copyright © 2002 - 2017 むしむしくらぶ BUGS CLUB All Rights Reserved